On this last day of April vacation I spent the day with Eva. Andrew was in a day long camp at Karate and he was excited to be able to stay there for the day. I think this was really good for him to experience this. He had been looking forward to this for a long time. He ended up having an excellent day.
I took Eva to Morin's for breakfast and she loved it. I enjoyed having a great time chatting with her. She was so excited for the day because we were going to watch The Guardians of the Galaxy Volume 2 today. She has learned a lot about comic books and because she loved Thor Ragnarok so much she is interested in reading Thor comics. I'm excited that she has more interest in reading comics.
Before we watched the movie I built this LEGO Marvel Superheroes set. I have three more to go from the Infinity War series. I'd like to build them all before the movie is released. I'd really like to build every Marvel set I have but I'm not sure that is going to happen.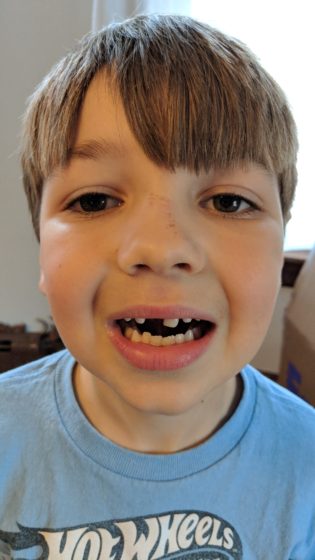 When Andrew returned home he had a big surprise. One of his front teeth fell out. That wasn't even the loose one. He has a loose one that spins all the way around but won't fall out and he won't let us pull it either. Allison was hoping that they both fall out today but that isn't happening. Soon, probably.
Watching Guardians of the Galaxy Volume 2 was great. We had a lot of fun together and I enjoyed how much Eva laughed while she watched it. There were some moments where we told her not to repeat what she heard but I'm pretty sure we don't have to tell her any of that.
Copyright (c) 2020 BenSpark Family Adventures