On October 9 – 11 I attended a Disney Press Event. My hotel and airfare and meals were taken care of while I was in L.A. Opinions and observations as well as recaps and such are all my own. This post will also contain some affiliate links to Amazon.com.
When I first received the invite to attend the Thor: Ragnarok I was incredibly excited. Then I panicked. I've never done a red carpet before. I am a jeans and t-shirt kind of guy and have absolutely nothing to wear to this. Do I wear a suit, what do I do? I've seen friends attend and they look really good in their suits and shirts and have awesome poses. I'm overly critical of myself and was really worried about how I was going to look.
the women on the trip were all talking about what types of dresses they would wear and when they asked questions about what they should wear and it was suggested that they take a look at the colors of the movie I got an idea. I was going to be wearing black pants, that was a given, black pants work for whatever. I also needed new shoes so I looked for something I knew I would like. I needed a really solid shoe with a more blunted toe. I would also need a new belt. I discovered something really cool when looking for my new belt, ratcheting belts. I looked first at the buckles and then the belts themselves to find my new one. Socks were going to be fun and comic book related so I got a four pack of Marvel Superhero socks that included some Hulk ones. Then it was the shirt. I wasn't going to go full suit, pants and a shirt were the way to go for me. I started searching for green shirts. I either wanted something a dark emerald green for Hela or a lighter green for Hulk. What I found worked as a theme for both of them. I found a shift that was light green like this version of hulk but had these spiky black designs like Hela's helmet. It worked perfectly.
If you'd like to get my look for just over $100, you can through Amazon.com. That's how I did all my shopping.
I was ready for this. I couldn't wait to get there and experience this amazing event.
As we pulled up to the theater we could see the large tent and the people gathered. The red carpet actually starts about 2 or more hours before the movie. We were there closer to the actual movie. The later it is the more of a chance you get to see the actual actors from the movie. Many people who come and attend are in some way or another attached to the movie, or the studio. There were many celebrities who were at the event. I could see them on the Marvel Livestream before we arrived and I also saw quite a few when we arrived.
On the Red Carpet

The setup for a red carpet is interesting. There is the main red carpet where there are people that everyone came to see like Chris Hemsworth, Cate Blanchette and Mark Ruffalo. Then there is a metal barricade fence where reporters and their camera people are standing. Most outlets are on the outside of this fence. Inside, though are the major news outlets and also Marvel's own Marvel Live Channel with Tamara Krinsky and Lorraine Cink. They have a two hour livecast from the red carpet and around 1 hour and 29 minutes you can see me in the background. They are interviewing Tessa Thompson at that time. I embedded the video a little ways below.
Like I said earlier there is the main red carpet where the celebrities are. Then behind that is a smaller fenced in area where there are security guards telling people in the third area, the one that we were in, to keep moving. We did keep moving but we were moving slowly and there were times when we couldn't actually move at all. The movie was going to be starting soon and they had to get everyone inside so that it could start. For the most part the security staff was pretty pleasant. I am rule follower so I kept moving. That is probably how I lost my photo buddy, Christy.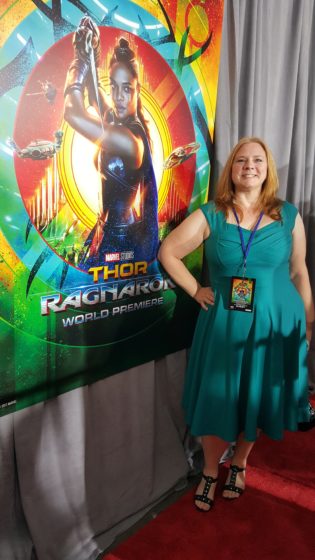 Each person was to have a photo buddy, someone who would take your photo on the red carpet and you would take theirs. I took a few photos of her on the red carpet and she took a few of me. Then we got separated.
It was also okay to do a livestream or record video from the red carpet so I did a quick Facebook Live until I had to give my phone to the security folks so they could package it up in a little device that I kept with me in the theater.
As I walked along the red carpet doing my livestream I noticed a few people. I saw Thor himself, Chris Hemsworth. He was actually stopped and talking to a little kid. He may have even been signing an autograph or something.
I also saw Cate Blanchette being interviewed by the Marvel Studios folks for their livestream. You can see me in the livestream about an hour and a half in, you can't miss the bright green shirt. Cate Blanchette has a very important role to play in this movie and in the Marvel Cinematic Universe as a whole. She is the very first major female villain and she plays it magnificently. I've added a little featurette about her character.
So, Cate is across the way being interviewed. She had this stunning gold dress on. I was filming my livestream at the same time but was a bit far from where she was plus whenever I aimed my phone that way there was a sea of lights coming back at me. It was like daylight/ That is probably why so many amazing photos were shot from that side of the fence.
After Cate was interviewed the MArvel folks then interviewed Tessa Thompson and that is when you can really see me in the background. I was doing my livestream and one of my friends told me that he saw me on the MArvel livestream at that same moment. It was hilarious because he was watching both streams at the same time.
Up above there is a photo of James Gunn. I interviewed him years ago on my very first Marvel related trip. This was for the first Guardians of the Galaxy movie. Interviewing James Gunn was one of my favorite interviews ever. I had never interviewed a director after seeing their movie before. I was blown away by the movie and then learning about how he approached things growing up it made the experience all the more amazing. I wish that I had hung around a little while because he came over to talk to one of the other bloggers because she has this amazing sleeve of Guardians of the Galaxy tattoos. He and his wife Jennifer came over to see Tessa's arm. I had been right there but was moving along, so I missed this.
I kept on going and got to the point where we had to turn to go up the stairs and into the theater. What I didn't realize was that there was this whole other section that was set up to look like the gladiator pits from the movie. There were giant toy figures and more, it was a great spot for additional photos. If I ever go on another one of these I'm going to try and explore much more before I go into the theater.
Into the Theater
Heading into the theater we put our phones into these spandex containers that were then sealed. They could not be opened without a special device. This was to prevent anyone from filming the movie. I liked how they did this instead of turning over our phones. I grabbed a bucket of popcorn and a soda and found my way to my seat. We had seats directly in the font row and here comes my series of moments where I blew it with celebrities that I'd like to talk to.
Clancy Brown. Clancy Brown walked along in front of us to get to his seat. He quipped, "Front row, nice." Or something to that effect. I recognized him two seconds too slow. I really wanted to tell him how much I like his work. He's done everything from Highlander to Shawshank to Teenage Mutant Ninja Turtles. In Thor: Ragnarok he plays Surtur. He's one of those people that I've always wanted to meet, too. Then he sat a few rows behind us. I saw him again after the movie and was, again too slow. Maybe out of nerves, maybe out of just being too slow. Probably nerves. Then the lights began to go down.
Before they did there was another moment where the Marvel Studios livestream showed up. They were standing right by me and if you watch the video below you can see the camera pan all the way around the room and catch all the bloggers in our seats. Then the actors and actresses came out. They were introduced by the Grandmaster himself, Jeff Goldblum. Then after they were all introduced it was time for them to take their seats.
But first, they walked past us and any folks even gave us high fives and shook our hands. I'm pretty sure that I shook the hands of Karl Urban and Mark Ruffalo and even Tom Hiddleston. It was really cool. It was then time for the movie but you'll have to wait for Thursday for my whole review.
After the Movie
When the movie as over I was on a happy high. I had just seen something so funny and amazing. I made my way out to get my phones. As I did so I saw a bunch of people and as I am walking one way Jon Favreau was walking the other, He was trying to get across and I let him pass by me. I had the opportunity to tell him quickly just how much Iron Man meant to me and I choked.
I got my phone and headed down the street to meet up with the rest of the group. I was one of the first and so I stopped and leaned against the wall. I was right next to Miley Cyrus and Liam Hemsworth. I wanted to tell Miley that her Thank you note to Hilary Clinton was awesome and funny.
The group gathered across the street. We stood there watching as the tents were taken down and put away. The street was lined with $5 and $4.99 stores with one guy in bright blue hair shouting out all sorts for things to get people into the store. When the whole goup was together we walked down to an indoor/outdoor mall and began to climb the stairs. These are the same stairs that are used for The Oscars and lead into the Dolby Theater. We got a few nice photos on the stairs.
It was an incredible night.
Looking Ahead
We rode back to the hotel high on the excitement of our night of fancy fun. The next day we would be interviewing Taika Waititi, Rachel House, Kevin Feige and Karl Urban. Those interviews will be going up in the next few weeks. But for now, here is a great photo of Karl Urban.
In Marvel Studios' THOR: RAGNAROK, Thor is imprisoned on the other side of the universe without his mighty hammer and finds himself in a race against time to get back to Asgard to stop Ragnarok—the destruction of his homeworld and the end of Asgardian civilization—at the hands of an all-powerful new threat, the ruthless Hela. But first he must survive a deadly gladiatorial contest that pits him against his former ally and fellow Avenger—the Incredible Hulk! THOR: RAGNAROK is directed by Taika Waititi and returns Chris Hemsworth starring as Thor and Tom Hiddleston reprising his role as Loki. They are joined by Cate Blanchett, Idris Elba, Jeff Goldblum, Tessa Thompson and Karl Urban, with Mark Ruffalo and Anthony Hopkins.
Like THOR: RAGNAROK on Facebook: https://www.facebook.com/Thor/
Follow THOR: RAGNAROK on Twitter: https://twitter.com/thorofficial
Follow Marvel on Instagram: https://www.instagram.com/marvelstudios/
THOR: RAGNAROK opens in theaters everywhere November 3rd!
Copyright (c) 2020 BenSpark Family Adventures