One of the most hotly anticipated video game sequels was released on October 21. Skylanders Giants is the follow up to last year's Skylanders: Spyro's Adventure. I played Skylanders: Spyro's Adventure last year and all throughout the year. I loved it and collected each and every Skylanders figure that I could get my hands on. There were 32 regular figures from Skylanders: Spyro's Adventure which works out to four figures from each of the eight elements (Life, Water, Undead, Fire, Air, Tech, Earth and Magic). I bought them all plus four legendary figures and a few other special ones. Now with Skylanders Giants there are 48 figures plus variants so by the time I'm done collecting this time around I'll probably have close to 100 figures. But that is okay because I LOVE this series of games and I'm playing everything that has to do with Skylanders and Skylanders Giants. I even wrote a handy guide for people interested in the Skylanders Giants game.
Here's how the characters break down for Skylanders Giants:
Eight brand new regular size characters, one from each element.
Eight brand new Giants figures, one from each element.
Eight Lightcore regular size characters, one from each element.
Twenty-Four regular size Series 2 Skylanders figures (characters from Skylanders: Spyro's adventure in new poses)
4-6+ Legendary Figures
4-6+ Variant Figures
On the day of the release I bought every single figure that was released and on the next day Toys R US had a wave two preview and I bought all but two of the figures from that wave, I still cannot find Lightcore Jet Vac. A friend online actually found and bought Hot Head (Fire Element Giant) for me and tweeted to me that he got it for me, so excited for that one.
Okay, so the figures are amazing and that is even before you "Bring the to Life" on the Portal of Power. When you place a figure onto the Portal of Power they appear on the screen. I'm using the Wii to play the game but I could take any of my figures to my friend's home and play on their 3Ds, Playstation 3 and even the XBox 360. Every bit of stats data on my figures is retained on the physical character so my character has all of their upgrades when they go to play on those platforms.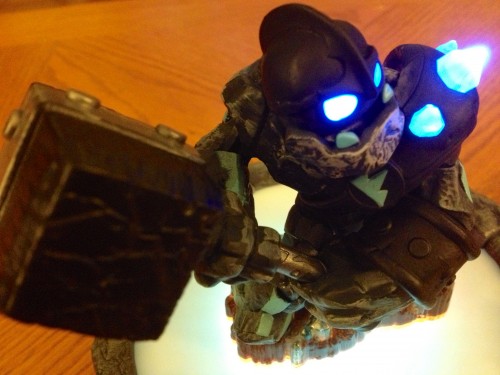 Game play is fun and there have been some cosmetic tweaks to how the game appears to players. Each character has a stats screen that shows all of their individual stats and now you can see just how long you've played with each character. Characters have personalized quests, too. Quests like defeating 1000 enemies to sucking 100 birds into their vacuum cannon (Jet Vac's personal quest). Series 2 characters can actually upgrade both tracks and change them whenever they want. Series two figures also have a bonus power called a "Wow Pow". this sets them apart from the figures from Skylanders: Spyro's Adventure. You can use every existing character in Skylanders Giants but only the new figures and Series 2 figures have the ability to switch their upgrade tracks whenever they'd like.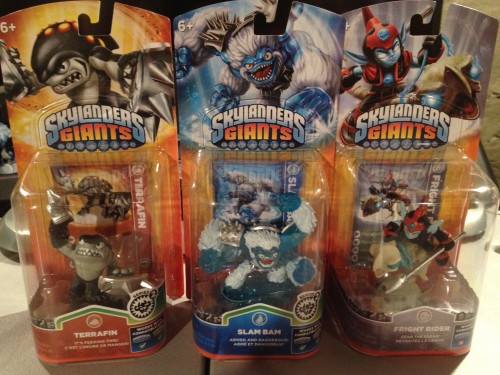 The graphics and character designs have been improved from Skylanders: Spyro's Adventure to Skylanders Giants. There are new enemies to fight and the ever present Chompies to deal with, but now there are exploding ones and freeze ones and even more kinds to contend with. There is a new baddies that I like, a guy with a flamethrower and then there are some guys who spin giant shields and you can only attack them from the back. Even the environments are more challenging with winter levels where your character slides out of control and even levels where you can fall off, you respawn but take damage.
A couple of new elements have been added to the game. In Skylanders: Spyro's Adventure there is a bear named Auric who is smartly dressed and can get you a large sum of coins. In Skylanders Giants Auric appears on most levels and has a store where you can use your coins to buy hats, upgrades Skystones and even heroic challenge levels. He has different items in each level so make sure you have some coins on hand so that you can buy all that you need without redoing the whole level.
Skystones is a new in game challenge where you play against different characters in order to win more Skystones. I haven't figured out what else this is for but I assume it will play a role in later stages, so play often to get the strategy down and to win more powerful Skystones.
There is also a battle arena where you fight wave after wave of enemies while avoiding other challenges. So if you just want to thrash baddies the arena is a great place to go. Also one of your hero quests is to play an arena level without taking any damage, so you are going to want to play that many times to beat that quest for your characters. I had a lot of fun playing the Arena battles.
There are also Player Vs Player games which I didn't do often in Skylanders: Spyro's Adventure but will be playing more in Skylanders Giants because, you guessed it, there are quests for characters to win at PVP 10 times.
In Skylanders Giants Flynn and Cali are back to help you out. This time Flynn has a flying ship that you can help to upgrade. Cali helps you with heroic challenges again but also has a device in her quarters called the Luck-O-Tron. You can find wheels for this device that help increase the payouts of experience, treasure, food and other items as you fight the forces of Kaos.
If you have any of the playsets from Skylanders: Spyro's Adventure you can use them in Skylanders Giants but not how you think. When you place a playset onto the Portal of Power (i.e. Dragon's Peak, Empire of Ice, Darklight Crypt or Pirate Seas) it will start to drop things from the sky, like the Anvil Rain magical item for a few seconds and then create a huge explosion that radiates out and damages every on screen enemy. You can also replay those levels that those playsets unlock in Skylanders Giants.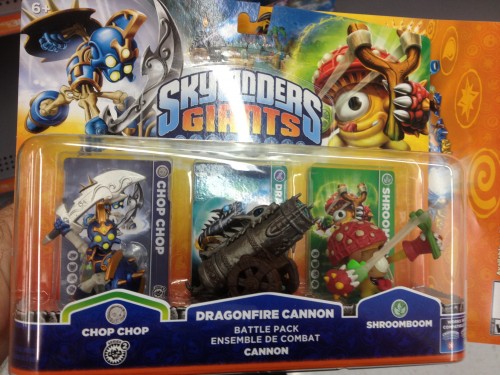 The Giants are a great addition to the game. While you'd think that all you need to do is plow through with a giant rather than play with the normal sized Skylander you'd be wrong. You're going to need a good mixture of all Skylanders figures to help get through the game. While Giants are very powerful and can pretty much steamroll most enemies they can't get through every tight spot. Conversely there are points where you need a giant to get to certain areas because of their ability to perform a feat of strength.
Skylanders Giants is a fantastic follow up to Spyro's Adventure, the story line is fun and the game play is even better than before. Activision also seems to have distribution of figures more in hand this time around because you can still get your hands on pretty much every figure that has been released including many of the variants. If you have kids from 5-15 and beyond and want to be able to play a fun game together with them than check out Skylanders Giants.
BIGGER REALLY IS BETTER WHEN SKYLANDERS GIANTS HITS STORE SHELVES ON OCTOBER 21, 2012
Skylanders Giants™ Debuts 16 All-New Characters, New Tech, Returning Favorites with New Powers and Vast New Playgrounds to Explore
New Game in the Successful Kids Franchise Pegged as a Holiday Hit For Second Year In A Row
Special Treats In Store For Fans Of Nintendo 3DS And Wii U
Santa Monica, CA – October 18, 2012 – Portal Masters everywhere will once again face the evil Portal Master Kaos in a brand new adventure in Skylanders Giants, which is poised to prove that bigger really is better when the game hits store shelves in North America on October 21, 2012 for Nintendo's Wii™ system, Nintendo 3DS™, the Xbox 360™ game and entertainment system, and the PlayStation®3 computer entertainment system.
The sequel to the best-selling kids title in 2011 and best-selling game of 2012 year to date*, Skylanders Giants, from Activision Publishing, Inc., a subsidiary of Activision Blizzard, Inc. [Nasdaq: ATVI], has already received endorsements from the Toys"R"Us® Holiday Hot Toy List, the Toy Insider "Hot 20 Toys for the Holidays" and Time To Play's "Holiday 2012 Most Wanted List".
Skylanders Giants builds on the success of its predecessor by dramatically enhancing the magic of bringing toys to life in an exciting virtual experience as first introduced in Skylanders Spyro's Adventure. The game features 16 new characters, led by eight Giant Skylanders, who are twice the size of their comrades. The Giants each have exciting new powers and abilities to match their size. Joining the Giants are eight new Skylanders, who also feature never-before-seen powers. Additionally, Skylanders Giants introduces new LightCore™ Skylanders that glow when on or near the Portal of Power®—no batteries required. Fan-favorites from Skylanders Spyro's Adventure return as Series 2 characters featuring an all new "Wow Pow" upgrade power as well as the choice of more than one upgrade path. And all your favorite characters from Skylanders Spyro's Adventure are 100% compatible with Skylanders Giants—stats and customizations intact.
"It's really gratifying that in less than a year, we've seen Skylanders go from being an intriguing untested new IP to becoming one of the hottest kids franchises in the world. And it has been universally acclaimed by parents, kids and critics alike," said Eric Hirshberg, CEO of Activision Publishing. "Skylanders is more than just a new piece of interactive entertainment, but a genuinely new kind of thinking in interactive entertainment. The response of the fans has been incredible, and the only way we can return the favor is with a sequel like Skylanders Giants. This game is all about big: big creatures, big worlds, bigger ideas. We're very excited to see Skylanders Giants finally hit the shelves."
Skylanders Giants will leap to Wii U™ day and date with the launch of Nintendo's new console on November 18, 2012. In the Wii U version, the game takes clever advantage of the system's motion and touchscreen controls. Meanwhile, Nintendo 3DS owners will experience a new adventure exclusive to this version. The storyline features fan-favorites Flynn, Hugo and Cali, and introduces the villainous Captain Frightbeard.
Skylanders Giants is rated E+10 by the ESRB. The game, technology, and Wii, Xbox 360, and PlayStation3 platforms were developed by Activision's Novato, California studio, Toys for Bob, led by creative director and studio head Paul Reiche. The Nintendo 3DS platform was developed by n-Space and the Wii U platform was developed by Vicarious Visions. For more information, visit www.skylanders.com
Activision Publishing Broadcast Media Center
Members of the media can visit Activision Publishing's Broadcast Media Center to download broadcast quality video, web-ready video and high-resolution images. Broadcast Media Center: http://activisionvideo.com
About Activision Publishing, Inc.
Headquartered in Santa Monica, California, Activision Publishing, Inc. is a leading worldwide developer, publisher and distributor of interactive entertainment and leisure products.
Activision maintains operations in the U.S., Canada, Brazil, Mexico, the United Kingdom, France, Germany, Ireland, Italy, Sweden, Spain, Norway, Denmark, the Netherlands, Australia, mainland China and the region of Taiwan. More information about Activision and its products can be found on the company's website, www.activision.com.
Disclosure: I received a copy of Skylanders Giants to try out and review. It was the Starter pack for the Wii. I personally bought over 20 Skylanders and intend to purchase more. Opinions of the game are 100% my own.
Copyright (c) 2020 BenSpark Family Adventures