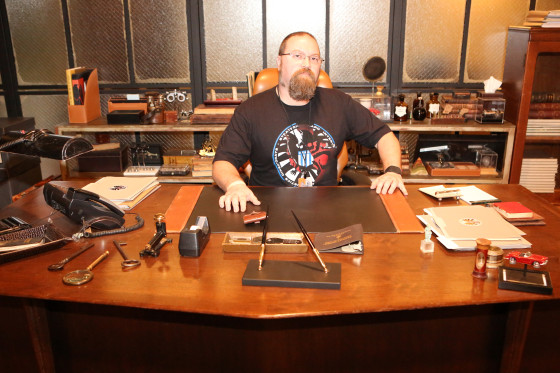 I'm a bit sad to write this post. This is my last post as part of the whole Marvel's Avengers: Age of Ultron (#AvengersEvent, #AgeOfUltron) and Marvel's Agents of S.H.I.E.L.D. (#AgentsOfSHIELD, #ABCTVEvent) trip that I took in April. The trip was an expense paid trip by Disney to press events, all opinions as always are 100% my own. The trip was very special because I had been hoping to get a chance to meet Clark Gregg who plays Phil Coulson, Director of S.H.I.E.L.D.. I had been following along with him on Social Media for over a year now and I enjoy his humor and the way he connects with his fans. I also enjoyed seeing him in all of the Marvel movies that have come out from the moment he first appeared in Iron Man. At this event I got my chance.
When we arrived at the studio and then entered the set we were greeted to the site of the special aircraft that has been a part of this show from the beginning, The Bus. We saw Coulson's car, Lola on the ramp and while looking around we spotted a Quinjet and more. The first cast members that we were able to interview were Clark Gregg and Ming Na Wen (Agent Melinda May). They were so funny and warm that it set the tone for the rest of the visit, which was an awesome visit. When we began the interview Clark put down his own recorder, "Just to keep it honest now, I've got my own version". Ming Na then pulled out her own phone and took a photo of the group. She later tweeted the image and a nice message to us (Notice that you can see part of Lola in the background).
Both Clark and Ming-Na were funny and sweet and charming. They showed a real excitement for the show and interest in talking with us. You could see a nice working relationship with the two as well. They joked around for the first few minutes and kept the interview pretty loose. They asked us about seeing Avengers: Age of Ultron and were a little jealous that we had seen it first. Clark was funny and asked us if he was in the movie. Sadly, he was not, but he did have a role to play if you caught last Tuesday's episode then you know about Theta Protocol. Here are some of the more interesting questions and answers from that interview.
Prior to this interview we were given access to view episode 217 titled Melinda which was the backstory on why Melinda May is called "The Calvary". Many questions were geared to this episode. The first question was directed to Ming-Na.
Q: How much information did they give you in the very beginning?
MING-NA: They gave me the name of my character and that I was an agent of SHIELD [LAUGHS] and that she left the field for a reason and that's about it. Really I didn't get very much.
CLARK: Even in the pilot though, just from the script. In the pilot–
MING-NA: Yes. You know she was a–
CLARK: The first scene where we meet you, is me going to find her where she's behind stacks of boxes and paperwork having checked herself out of SHIELD. And we only gradually come to learn that she's got this reputation–
MING-NA: As the cavalry.
CLARK: As the cavalry and that she's a legendary warrior who quit and pushed away from the table because of a traumatic experience.
CLARK: But it was referenced a number of times. There was little hints of it in different episodes of what had happened. Eventually some pieces got filtered in that this involved a powered person, deeply scarring stuff, which I always really liked. It's where the show kind of veers into something topical, the concept of people who do defend other people militarily, the scars they carry in PTSD. But it's only been little piece meal hints. We were kind of excited, three days before we started shooting when we found out that this was gonna be the reveal.
MING-NA: Right, because we've heard a lot about Bahrain. There were always references to it. The details of it weren't really known until the episode. A couple of episodes before there were some hints about that storyline but, nothing very specific. So, a lot of times for us when we're acting it's almost as we're the audience member because we're discovering it the way an audience member would discover it watching the show. They don't tell us anything.
CLARK: They tell me some stuff.
MING-NA: That's because you're the director. You're Coulson.
Q: What has been one of the most emotional scenes to shoot?
CLARK: In Season 1, episode 11, I think it was, I get confused. I think it was called A Magical Place or Tahiti. It was when Coulson was put in the memory machine by Raina, and the people we did not yet know were Hydra, and [he was] forced to confront the fact that he had been dead that he'd been through this tremendously excruciating experience. Also stuff about the cellist and kind of the things he had lost. That part of the journey of someone who'd been a kind of 'no questions asked company man' realizing that he too had been lied to by all kinds of people.
MING-NA: I think–
CLARK: Like you. That was pretty painful.
MING-NA: Yeah. Well, you've lied to me a lot obviously. I think for me it was this episode about this kind of ghostly figure that May had to fight with. It really brought back her own personal issues about having to let go. So it had a reference to Bahrain, and I think that particular episode, she was struggling with, various things just not wanting to engage but having to take care of a situation and allow herself to. There's a lot going on over there, isn't there?
CLARK: That's all right. That's all right. We're working on it.
MING-NA: Then of course, I think the other scene was when Skye was–
CLARK: When Skye was shot. It's the family. This is a show about a family.
MING-NA: Yeah, that was a big one.
CLARK: People who don't get to have real families 'cause they work too hard. I suspect you know what that's about. And how they become a family. At the times when the bonds, the trust is questioned when people are hurt, we lose people on this show. We lost B.J. Britt. And most of us are still recovering. Even some of the bad guys, we love them so much off screen. It's a really fun– this is a really good set. There's others. This is a really good one. We have fun, and we take care of each other. When we have to say goodbye to people it really is painful. You feel it in the scenes. It's just dark around here for a little while. We loved B.J. so much. He was such a kind of discovery and such a buoyant person. I think we had five different goodbye parties just to keep him coming back around.
We talked a bit about stunts and other aspects of the show. Then Ming-Na was whisked away to makeup to get bruises put onto her. They were filming tonight's episode and finishing up the season finale. Clark stayed back and asked to take more questions. Then he graciously posed with each of us in Coulson's office.
Q: Do you ever get to ad lib your lines?
CLARK: I have ad libbed a couple of them, but not a lot of them. My god, I'd love to claim more of them. But a lot of them are our terrific writers. From the get go, Joss in the pilot and these writers, one of the reasons I think they brought Coulson back to life is that to their surprise in a super hero movie like the first Avengers and the ones leading up to it there was something that the audience really connected to in the super hero world. Someone who was quite vulnerable, who this was kinda their job… and got to have some kinda snarky lines. It's always been something that people really responded to about Coulson. And they give me some great ones. They've accepted the fact that at the end of most scenes where that's appropriate I'm gonna do one extra pass and throw in a couple. Um, boo-ya might've been mine.
I think the last question was something along the lines of which of the Avengers would you like to see make an appearance on the show.
CLARK: I'm always happy when those friends come to play. I've always felt that Coulson was kind of the crazy uncle of the Avengers. He never likes to choose favorites. It's was very nice when, in this episode last year, the 22nd episode when, director Fury showed up and handed me this spectacular cube, which does a lot of grooming things that no one even knows about. When he showed up and made Coulson the director of SHIELD that was a big day.
I love whenever Maria Hill, Cobie Smulders, comes to play. We've had Lady Sif a couple of times. Robert Downey and Jeremy Renner have been really cool online saying how much they wanted to come play. They've been a little busy doing this independent film that you guys saw the other night. [LAUGHTER]
I gotta say, for me, what was really exciting this year was people asking less that question and more, oh, Dear Lord, how is Fitz? How is his brain? Is he okay? The way people have really been concerned about Skye and Chloe Bennett and fascinated by Mockingbird and Mack and this SHIELD too. And having people like the magnificent Edward James Olmos show up. What we're doing here is getting to bring new stuff, the Inhumans into the world. At some point, I do think the flow will become a little more porous. But I'm glad we've gotten room to kind of set up our own thing.
After the interview we went in groups to take photos with Clark Gregg in Director Coulson's office and this is where I had the best moment of the tour. After we took the shot Clark turned to me and asked me what I thought about Avengers: Age of Ultron. He asked if I thought it was dark, he had heard it was dark. I told him that I thought that it was funnier than the first. Then he asked about Jeremy Renner and how he did in the movie. I said that he was great and his storyline was one of my favorites. That 45 second conversation before I was ushered off and the next group ushered in, was probably the best 45 seconds of the whole visit. I was flying high after that conversation. Such a genuine guy.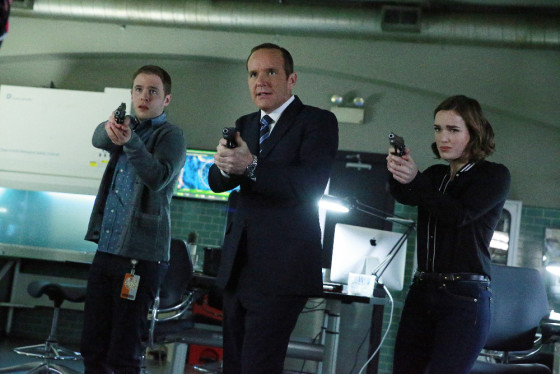 For more information on "Marvel's Agents of S.H.I.E.L.D.," visit ABC.com
Follow us on: Facebook www.facebook.com/AgentsofSHIELD
Twitter @AgentsofSHIELD
Copyright (c) 2020 BenSpark Family Adventures