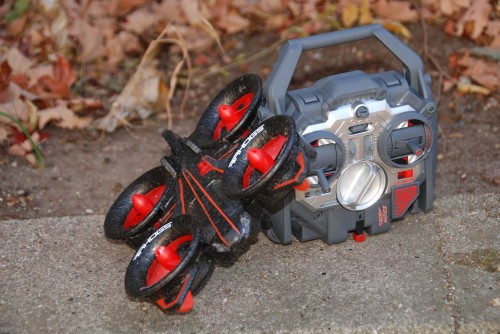 I received an Air Hogs Helix X4 Stunt Quadcopter to try out and review. Opinions expressed are 100% my own based on my experience with the toy.
I was very excited when I received this toy. I enjoy remote controlled vehicles, especially flying ones. Growing up there were no consumer level remote controlled aircraft that worked as well as the ones that are out today. I think I had an airplane on a wire that flew in a circle. I cannot imagine how blown away I would have been as a kid flying the Helix X4 Stunt Quadcopter around the neighborhood. Of course, this is an indoor toy but I did go and take it outside to fly a few times. If you have a day with no wind and plenty of open space you can enjoy this toy. However, a slight breeze is going to interfere with the operation of the toy so it is best for indoor use.
I've had the Quadcopter for a while now and have used it indoors and outdoors. The controls are pretty easy to use. The throttle on the remote can be set into place and remain there for expert hovering. There is a button that you can push to perform one of three separate stunts with ease. There are two modes of flight, novice and expert so the toy can evolve with your skills.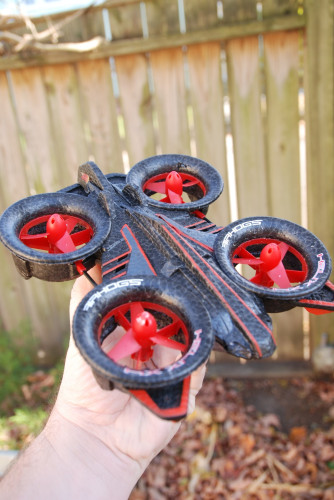 Here are a few features of the toy:
2.4GHz radio control
Gyro stabilization
4-ducted fans
4-channel control
Incredibly crash-resistant materials
Superior durability
Charges from remote or using USB cable (included)
I tried to capture video of my using the Helix X4. I was using it inside a building that had three floors of open space in which to fly. I probably should not have been flying it there. MY cousin helped me with the tripod and he was filming as I was flying. I was doing okay until I got too high.
Here's the thing about ducted fans. Sometimes when flying the Helix X4 you might get overzealous and the quadcopter might get a little sideways on you, literally. When the quadcopter flies into a wall and the fans are still going it will stick there to the wall until the rotors stop. The force of the suction allows it to stick right to the wall. Just release the throttle and it will come off the wall.
In the case of my flying the quadcopter in the three stories of open space I learned that on the third floor there is a little ledge just slightly smaller than the Helix X4. Big enough to land on and certainly big enough to crash upside-down upon. So, once it crashed there was no way for me to get it to come down remotely. The more I spun the rotors the more suction I created. I tried hitting the stunt buttons a few times also and that rocked the quadcopter but not enough to pop it off the ledge. My Helix X4 was stuck.
Fortunately the second floor is open so I could reach up and try to get the Helix X4. Unfortunately, i was going to need to get a lot more reach in order to snag it even using my fully extended tripod. So, I got a bunch of pens and pencils, taped them together with duct tape and taped that to my tripod, reached up, snagged the one ducted fan that was out over the lip and then pulled it down. I guess I should have gotten that on video.
Bottom line is that this is a fun copter that flies well, is easy to use and can be recharged via USB so you don't waste precious batteries from the remote.
Copyright (c) 2020 BenSpark Family Adventures