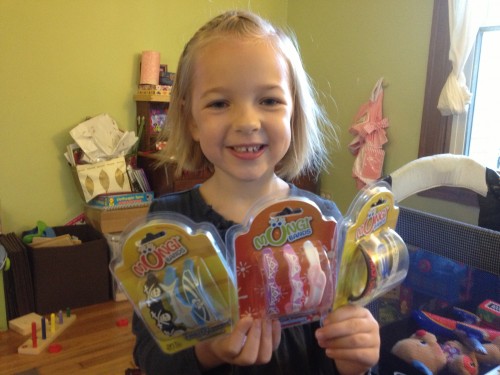 Kids love bracelets. When I was a kid it was jelly bracelets and that fad came back in a big way a few years ago. Adults and kids like to wear silicone bracelets to show their support for things or express themselves. Well an entrepreneurial dad decided to combine the collect-ability and trade-ability of bracelets and created Mungi (pronounced moon-gee) Magnetic Bands. A set of three bands goes for $6.99 retail.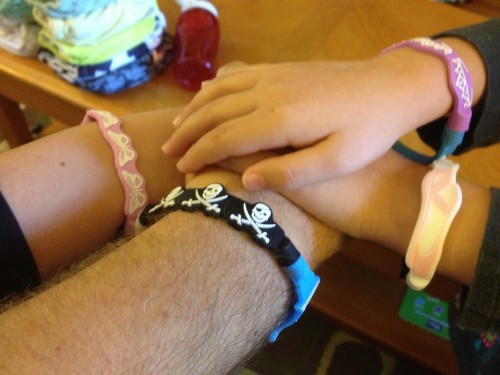 When these arrived Eva looked at them and asked, "When are we reviewing THOSE!" She was very excited about them. I picked three sets including: Dancing Princess, Rock Star and Shark Attack. Eva likes guitars and I think of her as my little rock star so the Rock Star set was a good choice. She also does ballet and is my little princess so the Dancing Princess set was also cool. The set that I picked primarily for me was Shark Attack because it had a Jolly Roger band in addition to the Shark band.
So, when Eva did get her hands on the Mungi Magnetic Bands she couldn't wait to make a video about them.
After she made the video she proceeded to make a ton of combinations with the bands. She even asked to take them to school. I allowed her to take two bands (enough to make a bracelet for her arm) to wear to school. The bands are recommended for ages 8 and up. Eva's less than two weeks away from 5 years old but I decided as her parent that she was responsible enough to play with these bands. She was also strictly warned to keep them in places that Andrew cannot get near. She played with them very well and enjoyed the heck out of them. And clearly she doesn't want to trade them with friends, yet. Maybe when she's older she'll get into the trading of things.
MUNGI MAGNETIC BANDS ARE THE NEW SOCIAL NETWORK FOR KIDS TO CONNECT (& COLLECT)
$6.99 Dad Invented Interactive Magnetic Bands Form Chains From Hair Bands To Ankles Bracelets To Express Mood Of The Moment
Wilmington, NC (September 20, 2012) – Silicone wrist bands have been a craze for over a decade, starting with the yellow "Livestrong" bracelet inspired by cyclist Lance Armstrong. The newest twist to this concept, Mungi (pronounced moon-gee) Bands, has a magnetic appeal that's becoming the new social networks for girls and boys. With designs and themes from rock star to butterflies, a magnetic click on the band connects it to another and another to allow kids to express their mood of the moment. Parents adore the $6.99 price tag that includes three colorful bands to design, collect and trade.
The whimsical name, Mungi, is just meant to be fun. And fun is what kids have when they showcase their personality in the form of a headband, necklace, bracelet or anklet by connecting any or all of the three bands sold together in a themed pack. For ages 8 and up, the bands come in Small (9 cm long) and Large (10 cm long).
Feeling sporty, sweet or royal? No matter what your groove, there's a magnetic band for you. Mungi Bands aren't just for wearing. Decorate a school metal locker or any surface a magnet can hold. New for Fall 2012 are 10 themed designs to wear, swap or give as a party favor: Dancing Princess '70s 50s Pink Sayings Board, Butterflies & Best Friends Go Long Rock Star Shark Attack Mustache Hot Boards
Mungi Bands are so much fun that they just won the Tillywig Awards Sterling Fun Award! Here's why the judges bestowed this honor: "Mungi Bands are jewelry with a twist. The bands – interchangeable, silicone strips that come in a variety of colors and patterns – connect to one another through magnets built into the ends, enabling kids to design (and re-design) their own jewelry in a flash. A single band becomes a ring or earring. Two bands form a bracelet. Several can morph into a necklace, headband, an anklet. They're soft, very flexible, lightweight, and the magnets, though small, have more than enough power to connect to one another firmly. Mungi Bands are collectible, trade-able among friends, so put your heads (and bands) together – form belts, ties, the world's longest Mungi chain! You can even use them to personalize your backpack, bike, or other belongings. Be creative. Let yourself be the artist AND the canvas and Mungi Bands your medium for self-expression."
The concept behind Mungi Bands came from Daddy's little girls. As dad-inventor Chad Anger explains, "last year after buying yet another pack of wrist bands for my three daughters, I noticed that they always wanted the bands that expressed their interests. But," he laughs, "the only time the bands were expressing anything, they were off of their wrist and on the counter or floor. This got my wheels turning about how we could make bands fun and encourage trading. We explored some ideas, but it wasn't until we cut some jelly bands and glued magnets on the end that the real fun began!"
"The girls and I began looking at different designs, and we had a few prototypes made locally. Once I received the first prototypes I knew the girls were going to love it, and they did! The more people we shared them with, the more people asked where they could buy some. We even had kids try to buy the prototypes with their allowance! This is when we knew that we had a cool idea on our hands."
In only six months — since their first test market at two local specialty shops — the bands have caught on with kids from ages 8 to 17. Retailers, sales reps and youngsters are attracted to the interactive aspect of the band. With endless design capabilities, the magnet-embedded bands were awarded the 2011 ASD Show Award for the Best Kid's Novelty Toy.
As distribution grows from coast to coast and around the globe, Mungi Bands can be found at neighborhood specialty shops like Learning Express or online at www.mungibands.com. With the launch of 10 new designs, the website is offering special free shipping savings when ordering four or more packs. Once you design your own accessory, take a picture and upload it to Mungi's Fan Pics. Like them on Facebook, watch them on YouTube and follow them on Twitter.
Mungi Bands are the newest social network for kids to connect!
ABOUT MUNGI BANDS
Why Mungi? It's a subliminal name that's just fun to say. Fun is key to these magnetic bands that were invented at the urging of entrepreneur Chad Anger's three little girls. Along with business partner Chris Goulet, the business blossomed in December 2011 when Mungi Bands were test marketed at two Learning Express stores in Wilmington, N.C. They sold more than a case of packs in a weekend. Within six months, including an exhibit at New York's 2012 Toy Fair, they were selling in 40 stores. Today the business is in talks for international distribution from Brazil to Israel. Look for Mungi Bands locally at specialty toy stores or buy them online at www.mungibands.com.
Disclosure: We received three packages of Mungi bands to review. Opinions about them are 100% my own, and Eva's.
Copyright (c) 2020 BenSpark Family Adventures