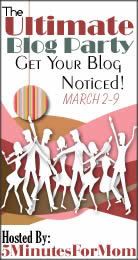 In this crazy online world everyone is looking to get noticed. Have a great blog and want to share it with everyone? Join an online community and help people out and they will come to your blog. Host the Ultimate Blog party and people will beat down the door to your Blog! The Ultimate Blog party will run from March 2-9. You can sign up by clicking the image above. There are prizes galore and you get the change to mingle with other party goers because the hosts of the Ultimate Blog party are all the bloggers who are participating.
So welcome to The BenSpark, take a look around and find something that you might enjoy.
Oh yes, how about something to eat. One of my favorite dips is a Buffalo Chicken dip. I wrote about that on Friday, January 05, 2007 here on The BenSpark.
No party is complete without some tunes so here are some of my favorite artists. Christopher Williams, Ellis Paul, Antje Duvekot and Jake Armerding.
And what is a party without pictures… Dull, I tell you. Get some pictures for your site Every Day!
If you are into movies, TV, photography, blogging (duh, you wouldn't be here if you weren't) then you should bookmark this blog and come back as often as you like. I'll keep the party going all year through.
Take a gander at my other party room at Flatwater. There is another great recipe there.
Copyright (c) 2020 BenSpark Family Adventures