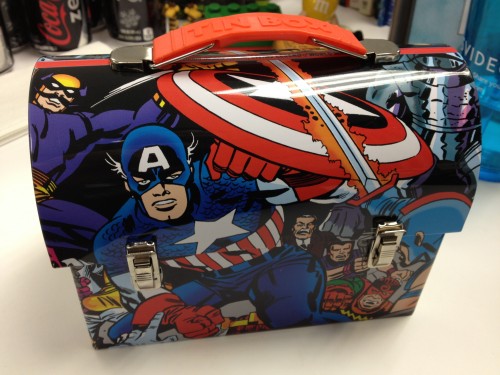 I was sent a new product from a super cool company called Loot Crate. Loot Crate is the first ever geek and gamer subscription service. I received the January Loot Crate which was titled Excelsior. It contained some fun products like a Captain America themed workman's lunch tin, some 8bit zombie stickers, a set of Chessex Polyhedral dice and Panda cookies. I looked for these items online separately and they would cost upwards of $10 more than getting them all together through the Loot Crate subscription service. I was pretty impressed with what came and I like that each Loot Crate is a surprise to be unboxed. Check out my unboxing below.
Great stuff!
Now, I just came home from ToyFair and while at ToyFair I met Matthew and Chris from Lootcrate. They were really nice guys and they were cruising all the aisles to find the best stuff that ToyFair had for future LootCrates. The story behind the creation of this company is interesting and I want to share their behind the scenes story here through this video.
I should be getting a new Loot Crate each month to unbox and share with you. This is a service that I'd happily subscribe to, better than a magazine and has tons of fun things that I'd add to my Toy and Knick Knack Menagerie on my desk. I enjoyed meeting Matt and Chris and believe in their company so I want it to succeed, so if that means me helping by unboxing cool stuff every month and sharing that with you then absolutely, I'm game.
I think that Loot Crate is doing it right because they have a strong community of Looters who do Unboxings, post to Instagram, interact with the Loot Crate Facebook Fan page as well as on Twitter.
Disclosure: I received this Loot Crate to unbox and review. Opinions of Loot Crate, the products and the service are 100% my own.
Copyright (c) 2020 BenSpark Family Adventures