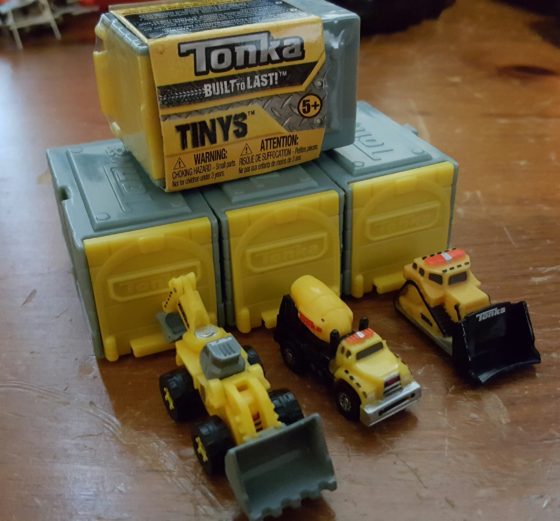 Photo-A-Day #4160
We received some of the new Tonka Tinys from Funrise toys to play with and review. Opinions of these toys are 100% our own.
It was a rather lazy day around the house today. I ran out to do some errands this morning after a terrible night of sleep. I had to take care of a few things and when I got home my intention was to complete a bunch of reviews. Well, we got through a couple that were in the backlog, but then right before I went to try and get a little sleep I saw a box that was delivered and inside were 4 of the new Tonka Tinys. These are small Tonka toys that are in blind boxes. There are 22 to collect and they are $2.99 each. We got four different ones so there were no doubles, that was good.
I grabbed Andrew and brought him up to the newly cleaned out office. He helped me open up each of the Tonka Tinys and then talk about them. I think he was pretty happy with them and will enjoy playing with them. I like that the containers that they came in are like shipping containers and they can stack on each other and they can also attach side by side. This is a great way to keeping them nice and organized.
Here is the official description.
Tonka Tinys
Tonka Tinys are the perfect vehicles to take on the go! These micro-sized vehicles are built Tonka tough and feature the same great styling as the classic Tonka vehicles. These vehicles are perfect for vehicle-loving kids or collectors! Tonka Tinys have working wheels to allow kids to create their own adventures! Choose from 22 different replicas of real-life trucks. Each vehicle comes with its own garage for storing and stacking! Ages 5+, SRP $2.99, Manufacturer: Funrise, www.Tonka.com, Facebook/Tonka, Twitter @Tonka_trucks, YouTube www.youtube.com/officialtonkachannel
Copyright (c) 2020 BenSpark Family Adventures