Photo-A-Day #2566
Today we headed to Florida to start our long awaited vacation. We're spending the next ten days in Sunny Florida with Allison's parents. We're also road tripping up and down the state in a 2012 Kia Sorento Ex. But, I'll get to that.
This morning we woke up really early, it was like we never slept, although we had. Dad came and picked us up at 5am. We piled into his pickup truck with 2 29″ suitcases, a Melissa & Doug Trunki, a roll aboard, two backpacks, a stroller, a diaper bag and a couple other carry ones, I lost track. There was no way that all of this was going to fit in my in-law's cars but that was okay because we had the Sorento.
We got to the airport in plenty of time to cruise through security and make it to our gate in a very leisurely pace. Sadly, the same could not be said for our good friends, Michele and Bob. We ran into them at their gate and they had missed their flight (but got another that put them in Orlando an hour and a half later than planned). Eva and her friend Audrey both have Trunkis and they had a fun time racing them back and forth.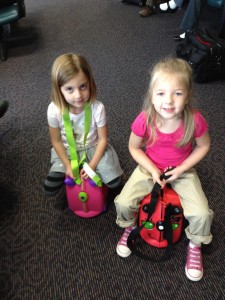 Trunki Races
We had two good flights where Andrew slept very well and the air changes did not bother him too much. Both he and Eva charmed the flight attendants as they came around the airplane. I continued to read The Hunger Games (I'm on Book three), Allison knitted and Eva played a bunch of iPad games.
We landed in Fort Lauderdale and were picked up by Grandpa Dano in the Kia Sorento Ex. I went with him and we took the luggage to the Kia. I was able to quickly put the third row seats down so that we could load up that giant pile of stuff that we had brought. Dan brought the Pack & Play for Andrew so we had that plus two carseats. But we got everything fit into the Sorento and we were off for Mimi and Grandpa Dano's house.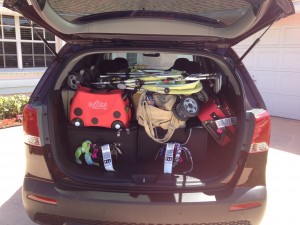 The Kia Sorento is all packed up.
We had a nice dinner with Mimi, Dano and Aunt Dot. We rested a bit at the house and Eva even played at the pool with Mimi, Grandpa Dano and Aunt Dot. Andrew charmed Aunt Dot for a bit, Eva helped Grandpa Dano with dinner and I made this video below.
After dinner we got in the Kia Sorento and hit the road for Orlando 181 miles away.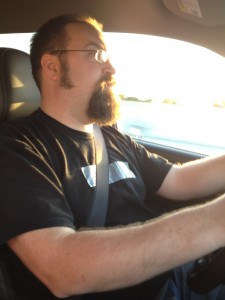 Road Tripping – (Yes that is Duct Tape, Covering a Corporate Logo)
We used the navigation system in the Sorento and it worked great. We made pretty decent time and the kids slept most of the way. I'm pretty sure they were knocked out within the first 10 miles.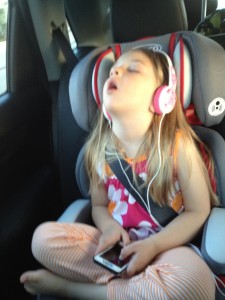 That can't be comfortable.
We made one pit stop halfway along the trip and continued on.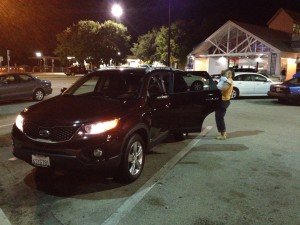 Pit Stop at the halfway point
We arrived in Celebration at 11pm, found my Aunt and Uncle's condo and unloaded for the night. Set up the pack and play, brought in all the clothes and everything else.
So after sleeping so well all day long Andrew was roaring to go once he got out of his carseat. He was moving and grabbing his feet and generally happy and excited. This might be a long night.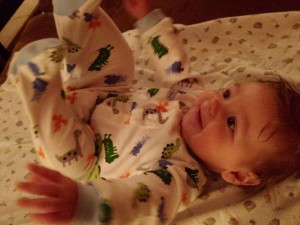 I'm going to be up ALL NIGHT LONG!
I hope that we all sleep as soundly as Eva looks to be sleeping.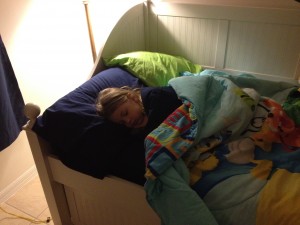 Tomorrow, we may visit the house of mouse but we will definitely be seeing our Auntie Mo!
Disclosure: The Kia Sorento EX was provided to us. Opinions about the Vehicle are 100% our own.
Copyright (c) 2020 BenSpark Family Adventures