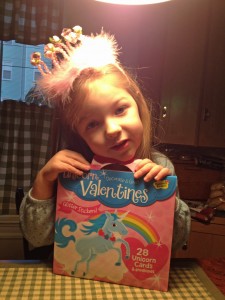 Eva and I worked on Valentine's Day cards for family and friends today. We got the cards from Peaceable Kingdom. A few weeks ago when we went to Legacy Place in Dedham we went into a bunch of paper and boutique shops and we saw lots of great Valentine's Day cards from Peaceable Kingdom. We saw many of the Super Fun Packs as well as the Traditional Valentine's cards. They all looked really nice and high quality, something that we've come to expect from Peaceable Kingdom.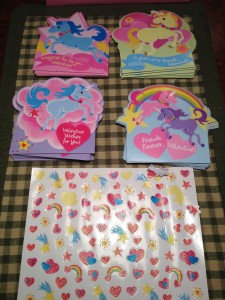 The Peaceable Kingdom Unicorn Super Valentine Fun Pack came with 28 full color, shaped cards and envelopes as well as glitter stickers to add to the cards. Eva had a wonderful time writing out each card and adding stickers to them.
I am so impressed with how well Eva writes her letters. I spelled out the names and she wrote the letters. So impressive. She enjoyed writing out cards and I was impressed with how they looked.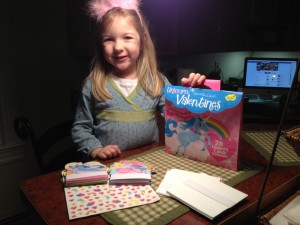 The retail price of a Peaceable Kingdom Unicorn Super Valentine Fun Pack is $13.00. I personally think this is a bit high for Valentine's cards. Luckily if you are in need of some more economical and still high quality then take a look at the Valentine Heart Packs Fold-and-seal cards with stickers! These are $5.00 for 20 cards and 48 stickers. No matter which Peaceable Kingdom Valentine's you pick you are going to get amazingly good quality cards with so many different designs and that includes Super Valentine Fun Packs that include Scratch and Sniff, Cootie Catchers, Tattoos and even paper airplanes. I have never been disappointed in the quality and design of anything we've reviewed from Peaceable Kingdom. The same goes for these Valentine's Cards.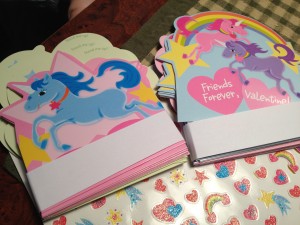 You can learn more about Peaceable Kingdom on their website and also interact with their customers and fans on their Facebook page.
Disclosure: We received this Unicorn Super Valentine Fun Pack to review. Opinions are 100% our own.
Copyright (c) 2020 BenSpark Family Adventures