Photo-A-Day #2908
Allison and I went for Sushi at Vintage in Woonsocket. We went there to learn how to make sushi in their class. One day on Groupon Allison saw that there was a sushi making class available near us and asked if we could sign up. I think it was $50 or something like that. The regular price is $100 per couple and so it was a no brainer for me, let's do this. We haven't done anything like this together before and I was very excited to try it out.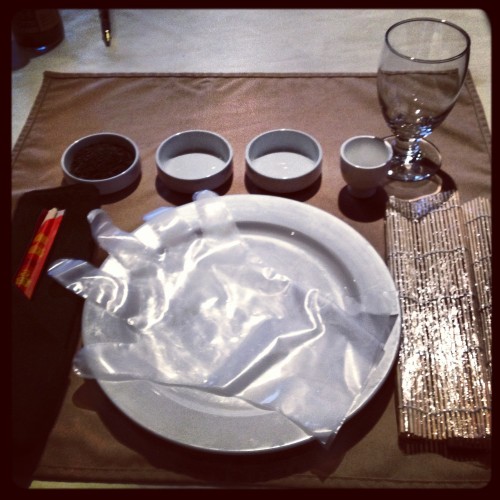 The setup at Vintage for sushi class is very well done. In the upstairs area there were about 20 seats in a horseshoe around a single table. At that table the chef from Vintage gave us a brief history of sushi and also many of the major terms around the art of sushi. We learned a great deal in that short time about how sushi got its start and what all the different types of sushi meant, the different types of rolls vs hand formed sushi and more.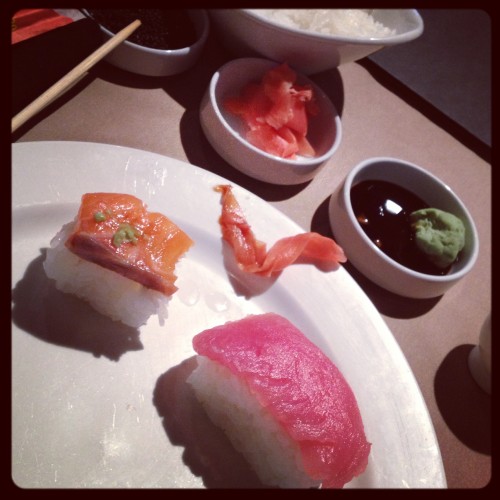 After the presentation we were given many ingredients and started off making some hand-formed sushi (Nigirizushi). We each made two hand-formed pieces of sushi, salmon and tuna. I had never tried either as sushi before and I really liked the salmon over the tuna.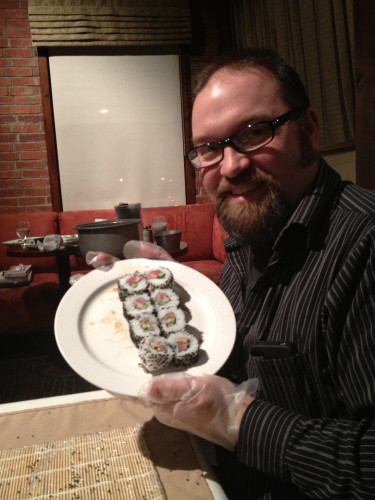 The next thing that we made was a cucumber roll, sumply Nori (black seaweed wrappers), rice, ponzu (sweetener rice vinegar sauce) and cucumber. With this roll we were given a light sake to try. We were asked to take one piece of the cucumber roll, take a sip of the sake and then take another piece of the cucumber roll. I'm pretty sure that my palate is not that refined because I didn't notice a big different between eating the two pieces. The type of roll that we made was called Temaki ("hand roll"). There is also Futomaki which is "thick, large or fat rolls which typically have multiple ingredients.
After practicing making the cucumber rolls we got to make one of two different kinds of rolls, either a california roll or a spicy tuna roll. I did the spicy tuna and Allison did the California roll. This type of roll was the Uramaki or "Inside-out roll". Inside out because the Nori is on the inside and the rice is on the outside.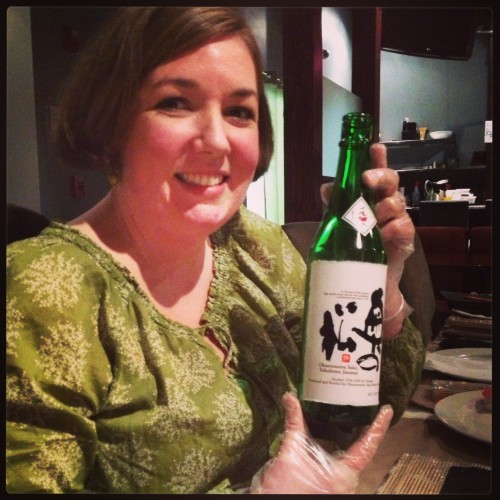 Speaking of rice, we learned the proper preparation of sushi rice and learned that our chef had to rinse rice for his first four months of training. Becoming a Sushi master also is a life or death endeavor. This is because the last thing a sushi master has to make is fugu, blowfish which if prepared incorrectly can cause death. We did not eat Fugu tonight.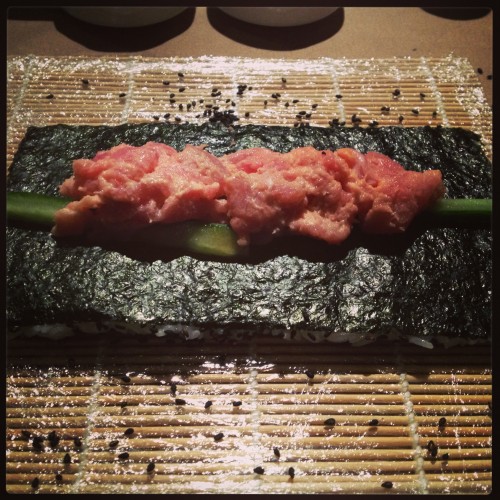 Allison did a great job rolling her Uramaki but I needed a bit of help. Both came out delicious though. I'd definitely like to try something like this again. We had such a fun night.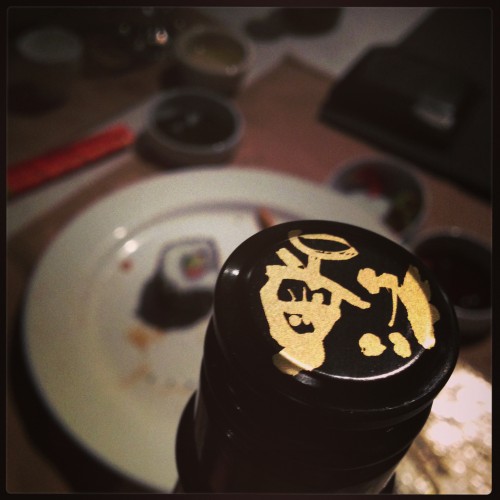 Copyright (c) 2020 BenSpark Family Adventures