Photo-A-Day #2914
Easter Sunday today and the kids were wonderful. They cooperated pretty well when we got them up early for Church. They behaved pretty well in Church (Andrew was a bit fussy and had to go outside a few times). After Church we went over to my parents for Easter Brunch and an Easter egg hunt inside the house and outside the house.
Last night Allison and I stuffed the eggs that we had with Hershey bunnies, Kisses, Reeses Peanut Butter cups and York Peppermint patties. We emptied all of the bags too. So we had a lot of eggs. We also set up the kids Easter baskets and a note from the Easter Bunny explaining that he hid the eggs at Mem and Grandfather's because our "naughty kitties" would have moved the hidden eggs all night long.
While Eva drew pictures in the kitchen my Dad and I put out the eggs in the front yard. We pretty much littered the yard with them so that they were easy enough for Andrew to find.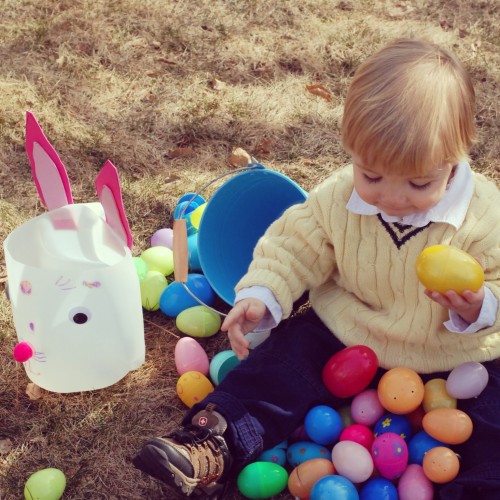 The weather was with us and the kids had a nice time outside finding eggs. They searched all over and Andrew even found a few on his own. He'd walk over and pick up and egg and then walk back to the bucket and whip the egg into the bucket. He had a lot of fun doing that. He then opened many eggs and walked around holding the chocolate bunnies, didn't eat them but walked around with them. That didn't stop him from trying to take Eva's eggs as well.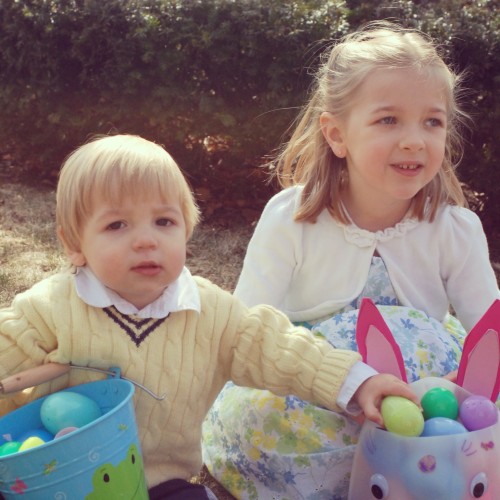 Eva made an Easter basket at school out of an empty milk/water jug. She took that out with her to collect eggs. And she filled it almost instantly.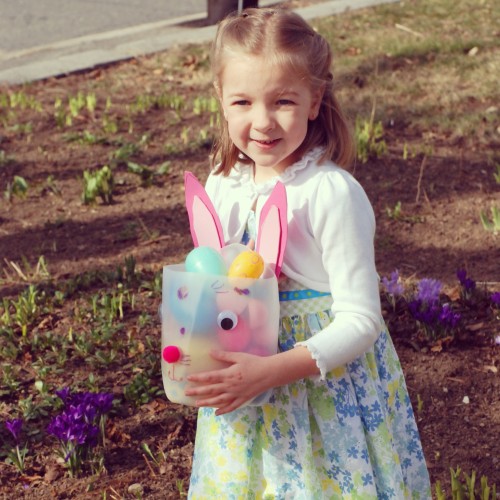 Then we had a nice brunch with Mom, Dad, Tara, Shelby, Tim, Allison, Eva, Andrew and Me. We enjoyed some homemade gluten-free blueberry muffins, quiche, ham and Shelby made up some Bunny and Duck fruit slices as part of a tasty fruit salad.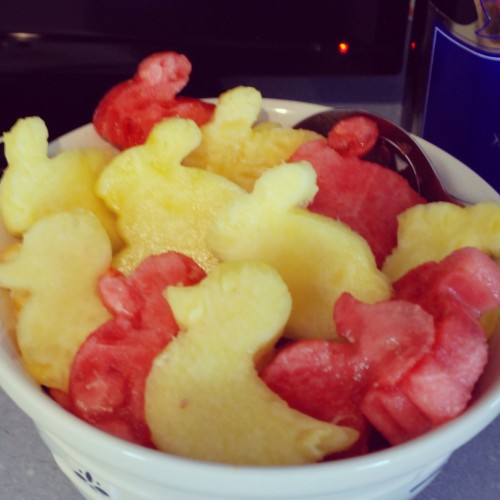 We had a very nice day and thoroughly enjoyed the joy of our children as they enjoyed the holiday.
Copyright (c) 2020 BenSpark Family Adventures