Photo-A-Day #2979
Looks like the Otter Exhibit at the zoo has had some of the area cleared out and now we can see them around back. The curious little guys were watching me with a very interested look on their faces. I captured this shot that made me think that they were saying, "Hey, where are you going?" The River Otters are Eva's favorite animals at the zoo. She goes to their exhibit right away each time we visit the zoo.
I was given the chance to test drive a GMC Sierra Denali for a week and tell you what I think of it. Opinions are 100% my own.
Today I made use of the GMC Sierra Denali. I had a garage full of cardboard and styrofoam. It needed to get over to the recycling center and there is no way I'm making 10 trips in my little car when I could make just one trip with the GMC.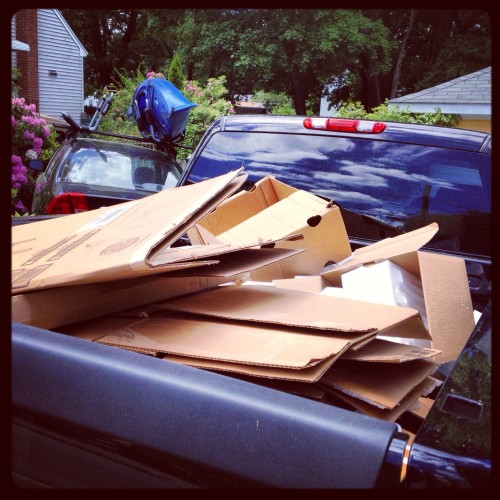 I was able to take pretty much all of the cardboard and styrofoam with me. There is more cardboard but that is because I haven't had a chance to cut up the big stuff. I'll try and get to that on Thursday and go again. I almost wish that we had something we needed at IKEA so we could go and pick it up.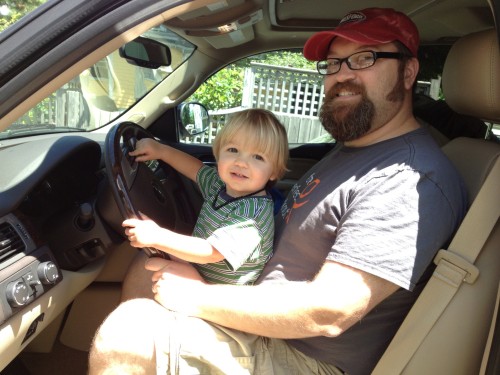 Andrew loved the Denali so much that he reached for me to pick him up and sit him on my lap. He never did that when I was in my car, but then again no kid ever dreams of driving a Civic.
Copyright (c) 2020 BenSpark Family Adventures