Photo-A-Day #2567
Today we were going to go to Walt Disney World's Magic Kingdom but that did not happen. It didn't happen because poor Eva had a fever and continues to fight a cold, so we decided that rather than drag the poor kid all over the park in the crowds and the heat that we'd do something else instead. I am so happy that we never told her that we were going. I can't even imagine how that would have gone. But our day was not without Disney Magic.
We started the morning with me running out for some cereal and milk and some other items, we got in too late last night to do that. Then I came back to the house, we enjoyed breakfast and some time out on the porch. I got some reading done, Allison did some knitting and Eva played Doc McStuffins. She took all the stuffed animals from the kid's room and gave them all diagnosis's. She then wanted to document a bit so she took this photo of Daisy Duck.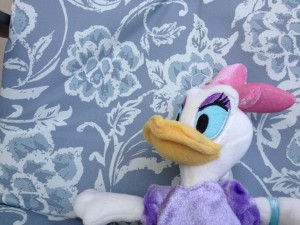 Eva's going to be so excited when she gets home to find a Melissa & Doug Doctor's costume/playset waiting for her.
Later in the morning our good friend Maureen, Auntie Mo, arrived. She had arranged to come to the park with us today and luckily has an annual pass so was able to change plans on the fly. She came and played with Eva and Andrew for a bit and then we decided to head to downtown Celebration to get some lunch. We were going to take two cars but then realized that we could reconfigure the 2012 Kia Sorento Ex so that we could all fit. We put up one of the back seats and moved Eva's booster there and then we had enough room for all of us. Eva liked having that back row all to herself, too.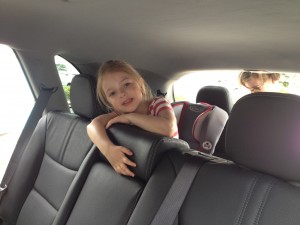 We went to the Celebration Tavern which had a distinctly New England feel to it. In fact so many places in Celebration had a New England vibe to them including seeing a Soft as a Grape clothing shop. I've only ever seen them on Cape Cod before. I'm wondering how many people have moved her from New England. Lunch as tasty and I liked the feel of the restaurant. There were glass mugs all over the walls with numbers and names on them. This made me think of the Saint Anselm College Pub, which was quite appropriate because Auntie Mo and I spent many occasions at the pub while we were Rds. I liked this sign.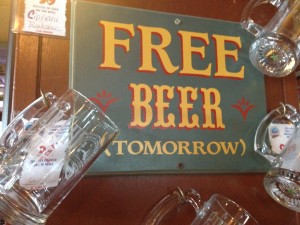 After lunch we walked around downtown Celebration for a bit. We poked into shops and in the toy store we met a Disney animator who drew a Mickey Mouse for Eva and signed it. That was Jeffrey James Varab who worked on movies like The Fox and the Hound and so many more. He was really nice and when he saw Eva asked if she wanted a Mickey Mouse. She was a bit shy but we talked to him for a bit and she agreed. It was really cute and just something nice that he did for her.
After our excursion around the downtown of Celebration we went over to Downtown Disney. We weren't going to get this close to Disney without spending at least some time on Disney property. Downtown Disney has plenty enough for us to do and our quick little visit there was more than enough time spent in the heat, the crowds and spending money.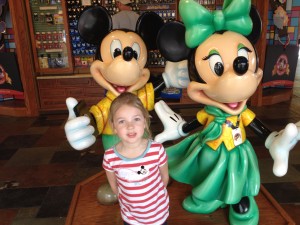 Eva and I spent a long time in the toy store at Downtown Disney, that is what happens when Dad is a big kid at heart. She played with the Mr. Potato Head pieces and we colored a Tiana picture together. She found some Princess Ariel play jewelry that she wanted and ended up passing it up until later on. We also went over to the LEGO store. This was the first place that I had found the new Avengers LEGO sets and so I picked up the one with Iron Man, Hawkeye and Loki. Eva had fun posing with and looking at the LEGO statues. There are some really nice new ones like the Dragon frmo Sleeping Beauty and Prince Philip.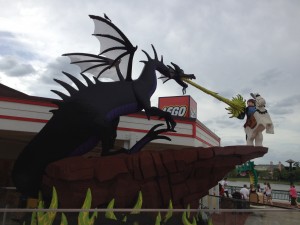 The LEGO store was fun and Eva made a few things but what she really wanted was that play jewelry so we stopped at World of Disney and bought that and got Andrew the cutest little Hawaiian shirt and khakis. While I paid for that, thanks for the help with the discount Auntie Mo, Allison entertained Andrew. She was lifting him into the air and then giving him Eskimo kisses and he was squealing with delight. Allison remarked to me later that it was so good to not be one of those tired and frustrated families who spent all day at the part and were now dragging around exhausted kids and sniping at each other. I noticed that more than a few people gave me dirty, jealous and wistful looks as I played the same little game with Andrew while we were in World of Disney.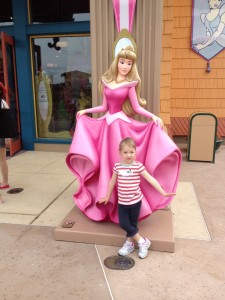 So, despite not actually going to the Magic Kingdom we had a pretty magical day overall. And Eva even got to go on a ride. Twice, thanks to Auntie Mo.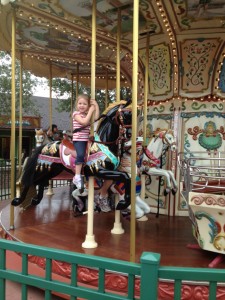 We left Downtown Disney in plenty of time to get the kids back to the condo and have dinner with Auntie Mo. It was so nice to have a relaxed day to hang out with her and catch up. Andrew loved her and Eva still loves her. And of course Allison and I adore her and look forward to catching up and can't wait till next time.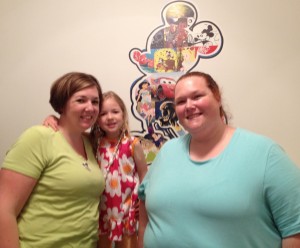 We ordered a pizza and salad and just enjoyed a quiet dinner together. Andrew passed out soon after 6:30 but Eva is still working on ways to continue to stay up and it is 9pm. I'm exhausted, so is Allison. I'm going to bed as soon as I click publish. Tomorrow we head back down south to Mimi and Grandpa Dano's but not before having breakfast with our friends at IZEA.
Disclosure: The Kia Sorento EX was provided to us. Opinions about the Vehicle are 100% our own.
Copyright (c) 2020 BenSpark Family Adventures