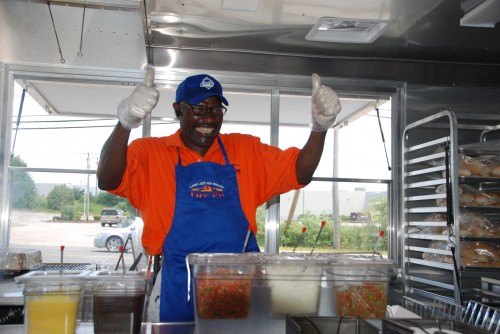 On Day 11 of The National Hot Dog Month 2012 Tour we find ourselves at Larry Joe's New England Fire Pit risen from the ashes! What a triumphant return too. In December Larry Joe's original Fire Pit burned down. But, from that tragedy Larry Joe rebuilt. With a brand new custom rig Larry Joe pulled into his spot at Larry's Liquor Store (No Relation). He arrived to cheers from The Hot Dog Man. Larry had been gone too long.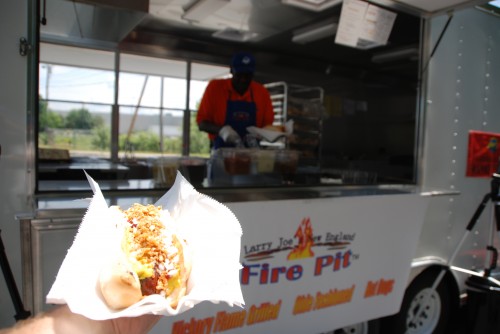 For me it has been one year since I had a hot dog from Larry Joe's. I got a regular dog (Which is a Pearl 1/2 pounder!) with mustard, Onions, Larry's sweet relish made with cranberries. And on top of that Rob added some Onion Crunch. It was such a tasty dog.
We stayed there for the better part of three hours, helping Larry set up, listening to Larry's stories and songs and of course enjoying the most delicious hot dogs. It was a fantastic stop along the tour.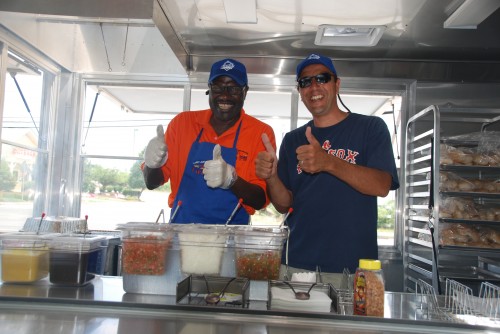 Rob wrote up a story about our adventure over at Hot Dog Stories.
Copyright (c) 2020 BenSpark Family Adventures