Photo-A-Day #2408
Before Eva was born Allison and I were on the Cape and walking around a garden area. She stopped to rest on a bench and as she looked down at her stomach I took a photo of her and it is one of my favorites. Today we went to The Blackington Inn to celebrate our anniversary (tomorrow). When we came out I saw this picnic table and liked the setting so I asked Allison to sit down on the seat so I could take a photo of her. We don't have many photos of Allison during her pregnancy with our second child so I thought I'd get one today. Doesn't she look beautiful!
Yesterday Auntie Shelby called to see if she could take Eva out for the day. This was just what we needed so that we could take advantage of the time and go for lunch at Blackington. This is the third or 4th year in a row that we've celebrated at Blackington. It is such a delicious place to eat. We shared calamari with pepper rings. They didn't work. ( 🙂 ) We also shared an amazing sundae with cinnamon ice cream, pumpkin cake, caramel and candied walnuts. It was so good! But more than the food it was nice to spend time together and talk without being interrupted (still working on that with Eva) and not having our electronics in our way either (I need to put down the electronics more, I know). But it was a nice afternoon together.
And it has been a wonderful six years as well.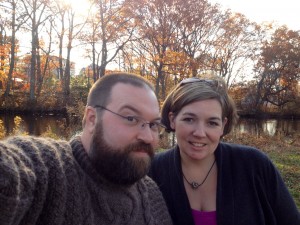 Copyright (c) 2020 BenSpark Family Adventures