Photo-A-Day #4542
Wonder Workshop saw my post about Coding Toys, Games and apps for Kids over at the Toy Insider Parent Panel Blog and asked if I would like to review their new robots, Dot and Cue. I said yes and they sent me review units for each of the robots. Opinions of these robots are 100% my own.
After I agreed to do the review I was sent a ton of embargoed information that I can release to you today because today is the release of these new robots. Actually, Cue is brand new. Dot is the same one that was out before but with a new color scheme and this time comes as part of a Creativity Kit. I got a personal instruction on both robots from the CEO of Wonder Workshop, Vikas Gupta via a Google Hangout video chat! He was really cool and told me all about these great robots. I could not wait to play with them but would have to wait until around 3pm for them to arrive. I had just enough time to take each out of the box and that was about it. So the actual full on review of these toys will be on another day. However, I would like to provide you with some information so that you can decide if these toys are right for your kids and I would encourage you to place an early order since they will most likely be very popular and scarce once the holidays roll around.
So, just who was it that was this guy, Vikas, who giving me this demonstration. Vikas Gupta is the co-founder and CEO of Wonder Workshop, maker of the award-winning Dash and Dot robots. Prior to Wonder Workshop, Vikas founded Jambool, a virtual goods monetization platform, which was acquired by Google in 2010. Previously, he led the payments and AWS teams at Amazon. He is the father of two and it was while he was taking some time off with his eldest daughter after Google that inspired him to start Wonder Workshop. Vikas holds a B.S. in Computer Science and Engineering from the Indian Institute of Technology, Kanpur, and an M.S. in Computer Science from Georgia Institute of Technology. And he was really fun to chat with. He even got down on the floor to demonstrate how Cue works. You could tell that he loved what he was doing.
Let's talk about Cue first. Cue is a next level robot with incredible interaction. He's not just going to beep and buzz but rather communicate on a much more personal level. You can chat with Cue the way that you would with a fiend through text messages where you share jokes, games, memes and more. Cue has a library of 30,000 chat responses and a vocabulary of over 170,000 words. Cue can also start conversations with over 25 conversation starters and there are over 250 hidden surprises with Cue. This means that Cue is going to stay engaged with your kids and your kids with Cue. Cue comes with a default personality but you can choose one of four avatars to start off. They each have different personalities. You get one free with the purchase of Cue and can purchase some of the other ones as in-app purchases. We were provided a $15 iTunes Gift Card to try all four personalities. When we do a more in depth review we will tell you about each. Here are the four personalities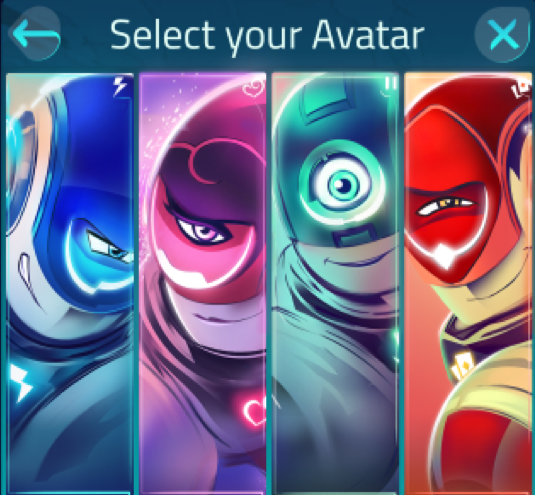 From left to right we have Charge, Zest, Pep and Smirk.
These avatars each have differing personalities and you can switch between then through the app. Cue comes with an app where you can chat with Cue but you can also put Cue through his paces using coding and other commands. You can also drive Cue with a remote control. Cue is, at the heart, a powerful robot to help kids become skilled and comfortable with coding by exploration. I can't wait for the kids to get their hands on Cue. I am saving the initial discovery of Cue to be shared with them. Cue goes for $199.99 and can be purchased in many locations including through our Amazon.com affiliate link for Wonder Workshop's Cue.
How about the Do Creativity Kit. Dot is a clever little green robot. Dot has multiple sensors and a quirky personality. Dot is pre-assembled and that means that you can play with Dot right out of the box. Dot is going to be for the younger child in the house and with Dot they can learn about the fundamentals of coding. Dot Creativity Kit will be sold at many locations for the price of $79.99. You can pre-order the Dot Creativity Kit through Amazon.com and our affiliate link. Dot is going to be so much fun for Andrew. He is an inqusitive little guy and I think he'll take to Dot's personality quickly. Tehre are also a ton of other things that come in the creativity box for Dot. This is what is included:
Dot the robot (now in green) with attachable stand
2 building brick connectors
2 Dot to cardboard connectors
20 project cards with games & activities
10 costumes
1 squishy case
1 constructible mood lamp
Over 100 reusable stickers
Multiple project accessories
1 charging cable
3 free downloadable mobile apps (Wonder, Blockly & Go) with dozens of challenges, puzzles, and hours of free play.
That is certainly a lot of stuff to keep the kids entertained. Look for our review post-use of Cue and Dot. We'll try and do a video of it.
Copyright (c) 2020 BenSpark Family Adventures