This past Monday I had the lucky opportunity to attend a sneak preview of Disney's Wreck-It Ralph. The movie will be released this Friday and I cannot wait to see it again. A friend of mine once called this movie a Toy Story for video game geeks. He is so true about that. When I was a kid I remember playing so many games at the Arcade and I played so many games on my Atari 2600, my Nintendo (NES) and in college I bought a PlayStation. So many hours of my childhood and young adult life were spent playing video games. I'll still drop a quarter into a classic game when I see one out in the wild.
The story is one of discovering just who you are and then believing in that person. There is an A story and a B story. In the A story we follow Ralph as he tries to earn a medal and feel like it feels to be the hero just once. He later meets Vanellope von Schweetz a "Glitch" from the game Sugar Rush. Vanellope wants to be a racer but she's being prevented from racing from the other racers. So we have two outcasts that meet each other and go on a quest together. Along the way they learn to be friends and support each other. The relationship was so funny and endearing and incredibly well done.
In the B story we have a tough Sergeant who teams up, reluctantly with Fix-It Felix, Jr. the hero of game Fix-It Felix, Jr. The two go in search of Ralph who has abandoned his game and also has accidentally released something horrible from another game that could threaten all the games in Game Central Station (The power strip at Litwak's Arcade. The dynamic of these two characters together was very funny especially with the over the top earnest delivery from Jack McBrayer (voice of Fix-It Felix, Jr.) against the take no crap from anyone lines from Sergeant Calhoun.
All the cameos from video game characters were on the money including movements of the figures on the screen. We see characters on the their game screens and so the old games are pixelated, but when the Arcade shuts down for the night and the place comes alive those pixelated characters get upgraded rendering. What I really liked was that even though the characters get that upgraded rendering they retain some cool movements that they have in their actual game. You see this very prominently in the characters of Fix-It Felix, Jr. I just thought that was a great attention to detail.
I'd recommend this movie to any kid who spent his/her allowance at the Arcade on a Saturday. That person who held his/her spot in line with a quarter is going to love it that they are going to lay down their money to save their seat for the next showing just to "play" again.
From Walt Disney Animation Studios and Emmy®-winning director Rich Moore comes "Wreck-It Ralph," a hilarious, arcade-game-hopping adventure. For decades, Ralph (voice of John C. Reilly) has been overshadowed by Fix-It Felix, Jr. (voice of Jack McBrayer), the good-guy star of their game who always gets to save the day. Tired of playing the role of a bad guy, Ralph takes matters into his own massive hands and sets off on a journey across the arcade through multiple generations of video games to prove he's got what it takes to be a hero.
Below I have some coloring pages that you can download for your kids as their excitement builds to see this movie.
Wreck-It Ralph group Coloring Image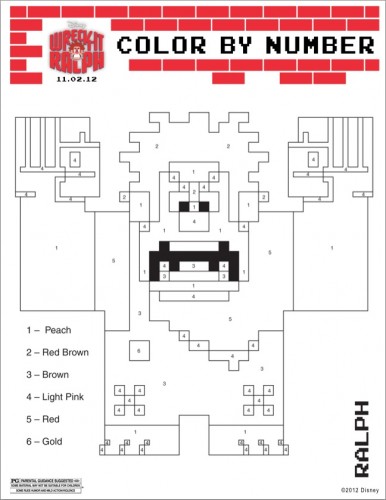 Wreck-It Ralph Color by Numbers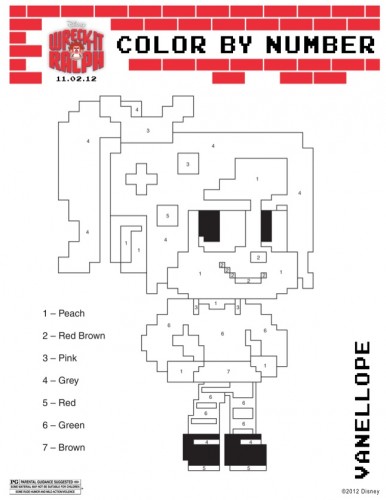 Vanellope Von Schweetz Coloring Page
Official Movie Synopsis and information.
On his quest, Ralph meets tough-as-nails Sergeant Calhoun (voice of Jane Lynch) from the first-person action game Hero's Duty, and feisty misfit Vanellope von Schweetz (voice of Sarah Silverman) from the candy-coated cart-racing game Sugar Rush, who may just be his first real friend. But everything changes when a deadly enemy is unleashed, threatening the entire arcade and Vanellope herself. Ralph finally gets his chance to save the day—but can he do it in time?
Rated PG by the MPAA, "Wreck-It Ralph" crashes onto the big screen on November 2, 2012, in Disney Digital 3D™ in select theaters. For more information, visit Disney.com/wreck-it-ralph, like us on Facebook: facebook.com/WreckItRalph and follow us on Twitter: twitter.com/disneyanimation.
Copyright (c) 2020 BenSpark Family Adventures