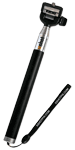 Another month, another contest. This time around I am sponsoring a contest in cooperation with XShot. You could win a fantastic product called the XShot. This is a perfect accessory for your point and shoot digital camera.
I was contacted by Michael, co-founder of XShot about a month or so ago. He asked me if I would like a sample product to demo and review. I totally jumped at the chance because I take a Photo-A-Day and not many of them have me in the photo with my friends and family. I also travel all over the country and am by myself quite often so there is no one around to take a picture of me at fun place. So I told Michael, "Sure thing!", and I received the XShot within a couple of days.
Once I got the XShot I immediately started playing with it. I took a couple of pictures with it for past Photo-A-Days.
I then took it out to get photos for different events that I have been to. I took it with me to the Double Midnight Comics 5th Birthday and Guys night with friends at Box Seats.
The XShot puts YOU into the photo, you can be part of the memories rather than just capturing them for everyone else. The 37″ reach is incredible and allows you to get 5 or more friends and family within the shot so easily. Also with the XShot you not only get a picture of yourself but also the background.
There are many things that I like about the XShot, for one thing it is small and light, it retracts down to 9″ and extends all the way out to 37″. That way you can get yourself and your friends and even the background into your photos. The XShot has a great Camera Adapter that makes securing your camera to the XShot so simple. This is one of the most well designed camera adapters out there. No need for coins or screwdrivers, you simple tighten a thumb screw and you are on your way. The handle has a comfortable non slip grip. There are so many places where the XShot would come in handy. And I like this product so much I wanted to offer a contest to my readers and well anyone out in the blogosphere.
So On to the Contest …
Who is eligible? – Anyone regardless of geographic location. I will be mailing the prize to you directly.
How do I enter? You have a choice in what type of photo to use for your entry.
Option #1 : A photograph taken of you and 4 friends or family (heck even strangers on the street) at arms length. You will find that trying to take a photo at arms length of yourself and 4 friends or family might be difficult. That is okay because I am looking for photos that aren't that great, I mean how well can you fit 5 people into a photo at arms length, not very well. However, the XShot excels at helping you take photos with your friends and family.
Option #2 : A photograph of you and at least one other person and the background. Do you have any photos of missed opportunities and cool backgrounds that involved taking the photo of yourself and at least one other person and a great background. With the XShot you will be able to get great shots of yourself and friends and the background.
I took the XShot with me to BotCon 2007. I got many pictures there. Here are some examples of photos of myself and some volunteers at BotCon 2007 who took photos at arm's length and then took photos with the XShot.
Weren't those pictures better with the XShot? Do you want one? Do you want to know how to get one? Keep reading….
The contest is over now, rules and instructions have been removed by blog administrator.
Great, Great, Fine, Fine What can I Win?
First place wins an XShot and a year's Pro Subscription to Flickr
Second Place wins an XShot and a $5.00 credit to Kodak Gallery
Third Place wins and XShot
BenSpark's Choice Winner gets – ???? A Surprise.
Disclaimer – I received my XShot free from XShot. I use it and really like it. That is why I put together this contest. XShots were supplied by Michael at XShot and additional prizes will be supplied by me. I received no compensation for this contest other than an XShot of my own. The contest was my idea. If you are a winner of this contest you will need to supply me with your address so I can ship it to you. Addresses will be kept confidential and used for nothing more than to send you your winnings.
Copyright (c) 2020 BenSpark Family Adventures